There is no doubt that we are moving into a much more dynamic and exciting age, thanks to technology such as augmented reality (AR). AR places virtual objects within real-world environments. With AR, consumers can preview products through their phones or tablets to make it seem as if they are right there touching them.
Consumers' buying habits have changed as a result of emerging immersive technologies. Snap Inc. reports that there are more than 100 million consumers shopping with AR online and in stores. 76% of respondents say that they want to use AR as a "tool" in their everyday lives.
The pandemic's continued acceleration of digitalised shopping could be what gives augmented reality its big opening. Mainstream retailers around the world are joining the metaverse and have started capitalising on limitless commercial possibilities.
Even though retailing groups continue to operate brick-and-mortar stores, they need to ensure that they have solid online-to-offline (O2O) strategies to stay competitive. Augmented reality is a terrific way to give consumers an immersive experience. It allows them to interact in real-time with products while remaining in their own environment.
Here are a few of the many benefits that strategic AR placement can provide to retailers:
1. More Engaging Customer Experiences
The customer journey can now be delivered through an engaging visual experience using cutting-edge visual effects. From leveraging immersive marketing experiences at the start of your customer's journey to building immersive content into customer experience centers, AR has great potential to transform customer experiences. It serves as a powerful tool to increase buyer interest and boost sales.
2. Higher Conversion Rates
Online consumers need to know what they are buying. They are more likely to transact if they have a better, more realistic sense of the product that they are about to buy. By implementing augmented reality in e-commerce, brands can offer a more interactive product experience, resulting in improved conversion rates.
AR evokes positive emotions about a product and increases the chance that customers who engage in an immersive shopping experience will want to revisit the store.
3. "Try Before Purchase" Experiences
The multinational furniture conglomerate, IKEA, rolled out 3D and augmented reality furniture visualization tools so shoppers could 'try before they buy'. They allow shoppers to see how the furniture they are thinking of buying would fit into their homes.
AR can replicate this advantage across many other product categories beyond furniture, such as eyeglasses, clothing, jewelry, shoes, beauty supplies and many more. Customers can now choose what they want by virtually "test driving" items they find appealing. The use of AR also enables customers to explore numerous different colors, shapes and design patterns to test out what they might like first. These AR-enabled experiences allow them to visualize what it would be like to own the actual product, so they can make more accurate purchasing decisions (and fewer returns).
4. Redefining The In-Store Experience
AR technology makes the physical shopping experience faster and easier. Instead of wasting time roaming around a store searching for certain items, shoppers can use an AR app to easily find the items they're looking for. Shoppers can begin a navigation session in the AR app by scanning a poster at the entrance. The app then displays the optimal route to the desired product.
AR can also allow for gamification. You could easily set up a scavenger or treasure hunt across your store, with AR markers placed by the products you want to upsell. You can offer those who complete the augmented reality hunt a discount on their purchase as a form of promotion.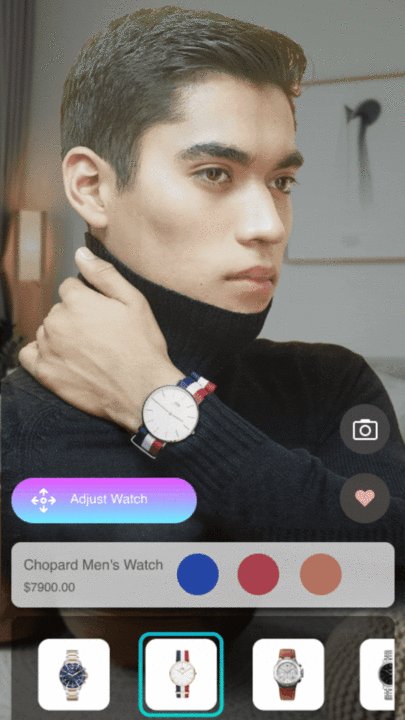 5. Transforming In-Store Displays
When it comes to in-store augmented reality features, one of the first things that come to mind is "magic mirrors". This works perfectly for fashion retailers. Customers can use a virtual fitting room to try different clothes and choose the style that suits them best.
Brands can also install in-store displays offering shoppers a plethora of interactive experiences. They can use AR displays to help customers create unique products or product combinations using decorations and accessories.
Disrupting the Future of Shopping
Augmented reality is still an emerging technology with an ever growing list of capabilities and uses. While the above examples are all possible today, the list is not exhaustive. As the technology develops, more options for taking customer experiences to new heights and realities will be available.
AR technologies will help companies better understand customer behaviour, improve engagement and sales, and deliver more successful marketing campaigns. AR has opened many opportunities for retailers to explore, for both online and offline environments.
Ask Silversea Media Group to create an immersive AR shopping experience for your customers today.