Why spend thousands of dollars on expensive sales galleries when you can spend less on immersive virtual showrooms?
As necessary as lush sales showrooms are, they have shortcomings. Mainly, you can only display a few products in the gallery and you leave much to the buyer's imagination. Additionally, you customer goes home with only a memory of your product and the trite goodie-bag including a paper brochure.
There's a simple and cost-effective answer to overcome these shortcomings — a virtual extension to your sales gallery.
A virtual showroom is a digital space where your customers can view the ultra-realistic 3D renderings and 360° views of your full product range not displayed within your physical sales showroom. It is an ultra-realistic interactive showroom that can be accessed remotely from anywhere in the world.
Here are the top 5 reasons why you should start using a virtual showroom:
1. From art galleries and technology museums to real estate galleries and product showrooms for SMEs and big brand companies, virtual showrooms can be beneficial for various industries and sectors.
2. A virtual showroom helps you reach a wider audience and create a positive brand image. With everything happening today, many customers will feel safer when they access exhibitions without having to come in contact with others. It is fast becoming the best way to promote your business across the whole world.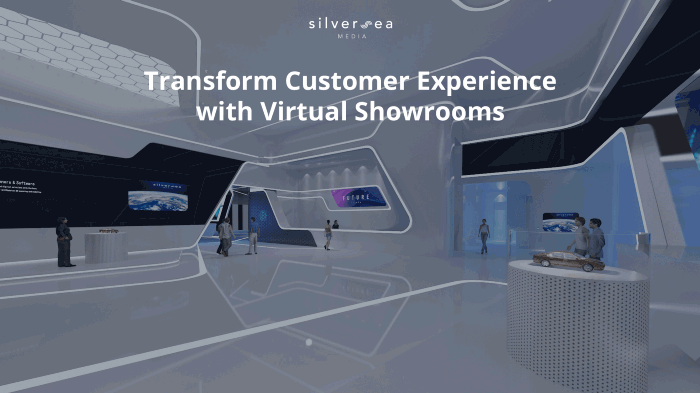 3. Save time and money! Compared to the traditional showroom space, the time and cost investments of a virtual showroom are lower. You can save on logistics and management expenses while empowering potential customers to easily experience your full product range online.
Click here to experience an immersive virtual showroom powered by Silversea Media:
4. It's a visual, mobile, and flexible company profile. Before, your customers could only show their close ones brochures. Now, thanks to virtual showrooms, your customers can share their immersive experience with their friends and family. Building an emotional connection with your customers has never been easier.
5. Close sales anywhere, any time. Using a virtual showroom chat platform, your customers are just one click away from an immersive experience and interaction with your team. You can also incorporate audio and text narratives, hotspots, and gamification into the online space. Virtual showrooms are a powerful and interactive 3D platform to help you grow your business.
Contact us now and we'll help you create a state of the art virtual showroom: https://silversea-media.my/contact-us/