Choosing which school or university to can be a stressful and nerve-wrecking time for the students. This is why schools have traditionally organised open days. On-campus open days were great for prospective students to see what life is like at a particular university. Now that is temporarily put on hold due to COVID-19, virtual open days are proving to be a promising alternative.
Virtual open days make the whole experience much more convenient and customised for visitors. Prospective students from around the world can get an authentic feel of what it would feel like to be a part of the institution, online through their desktop or their mobile phone.
Here are some tips to make sure your virtual open day takes off and lands smoothly: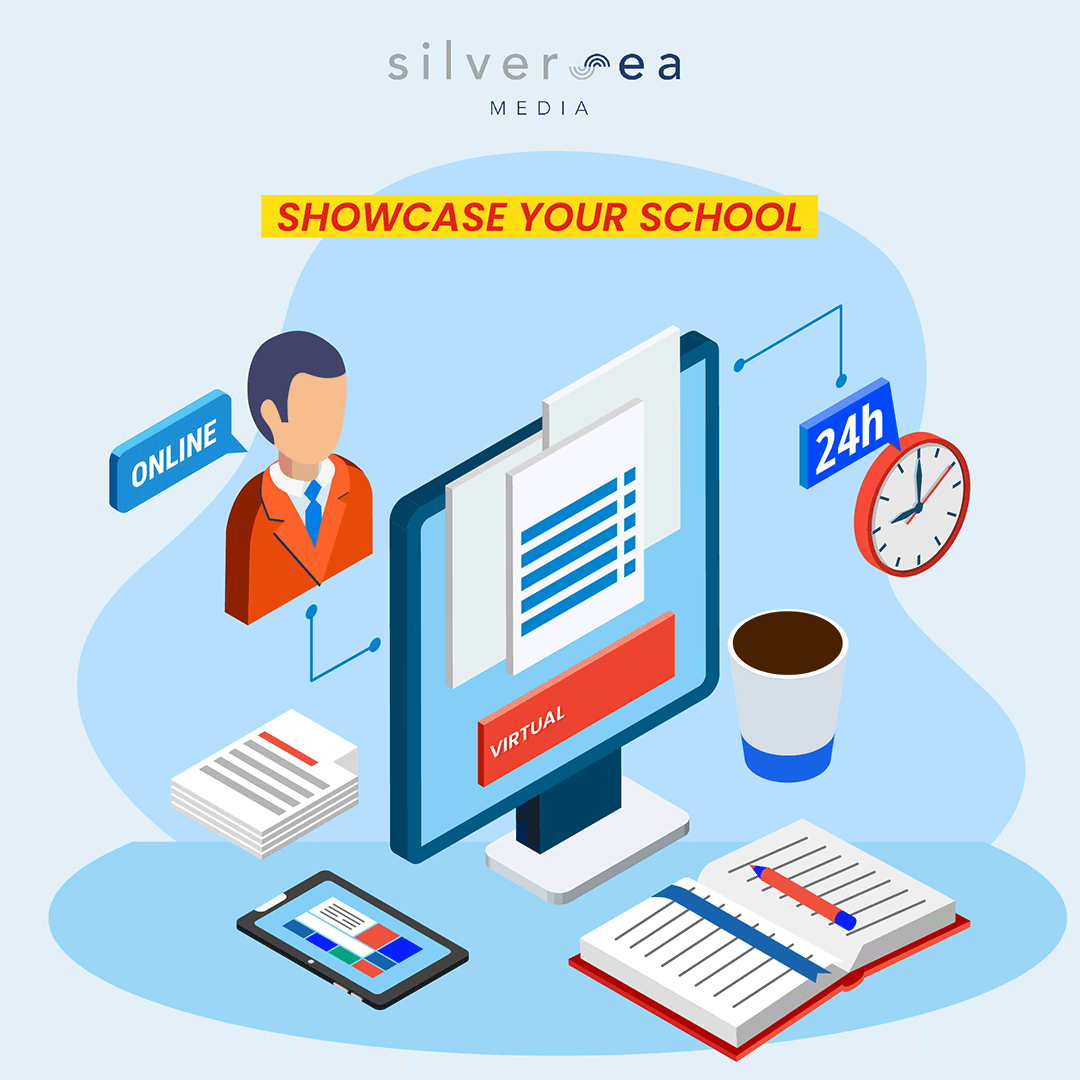 Use Diverse Content Formats
The one aspect integral to every format is the level of engagement you can secure. You can start with an immersive landing page for students to register before they access the event. To drive traffic to your registration landing page, make sure you design is visually captivating and highly functional. You could use videos and images or other branding tools that help illustrate your school's unique value proposition and personality.
In a virtual open day, you can provide students with in-depth insights about the school's programs, facilities, and much more in a compelling fashion. Share exciting videos, visuals, and informative documents that truly capture a campus life and your academic environment. Have a list of frequently asked questions for people to access, and a place for all enrolment information and downloads.
Create an Immersive Virtual Environment
Being the online counterparts of physical events, virtual open days need to match the physical experience. You need to carefully design an immersive environment that mimics your actual campus. This is why seeing your key and unique facilities through a virtual tour is ideal.
You can incorporate a 360 degree virtual tour that shows different parts of your campus, complete with additional links to faculties, campus resources, and social media to round out the tour. Moreover, you can leverage gamification in the virtual tour to trigger a visitor's curiosity, resulting in more unique personalised experience.
Engage Students With Live Chat, Polls, and Webinars
The option to interact with prospects through easy-to-use virtual avatars can easily multiply engagement at a virtual open day. A one-to-one chat feature can allow visitors to have their questions answered in real-time. Visitors from different parts of the world can have personalised conversations with your reps that can improve the chances of prospective students submitting their applications.
Use webinars or zoom meetings for more intimate or tailored sessions. Invite top faculty members to talk about the institution or any related topic about campus life and student issues. You can conduct live polls, surveys, Q&As, and other interactive features that can engage students while addressing their concerns. What's also important is making a consideration for those who are visually impaired or have hearing disabilities. You would want to ensure that anyone interested isn't just able to attend, but also gains from the event.
Connect Students with Staff
Students and parents come with specific questions in their mind, and the whole experience would be fruitless if you're unable to answer the. Therefore, a virtual open day should include a space for visitors to connect with current students or key staff. Prospective students can book a guided virtual campus visit with them and talk about their study options as well as career goals.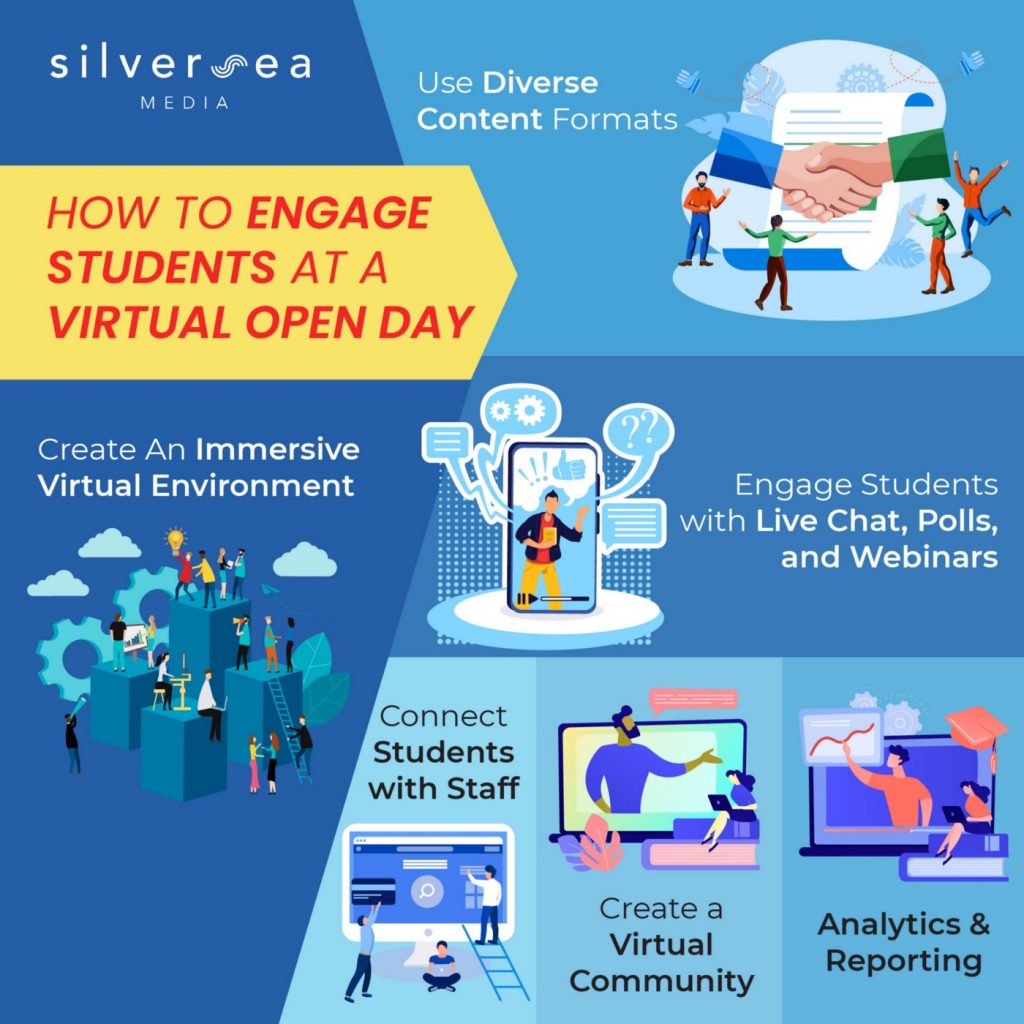 Create a Virtual Community
Like all interactions, online interactions should be meaningful and relevant. In a virtual open day, you have to consciously remind prospective students that they will be a part of large campus culture. Make a social media page for attendees where they can talk about current events and common interests. They can watch your virtual event together and discuss it afterwards. Deliberately creating social moments acknowledges this essential aspect of education.
Analytics & Reporting
With a virtual open day, you can access in-depth information such as how many attended your event, how long they attended for, and how engaged they were — all at your fingertips. This way you know what content is working and where you may need to improve going forward.
Once the event is finished, your job is not over. Convert those attendees into students through a comprehensive follow-up strategy. This may be email, personal follow-ups, or even a follow-up event.
Talk to Silversea Media today about how we can help you with your next enrolment event